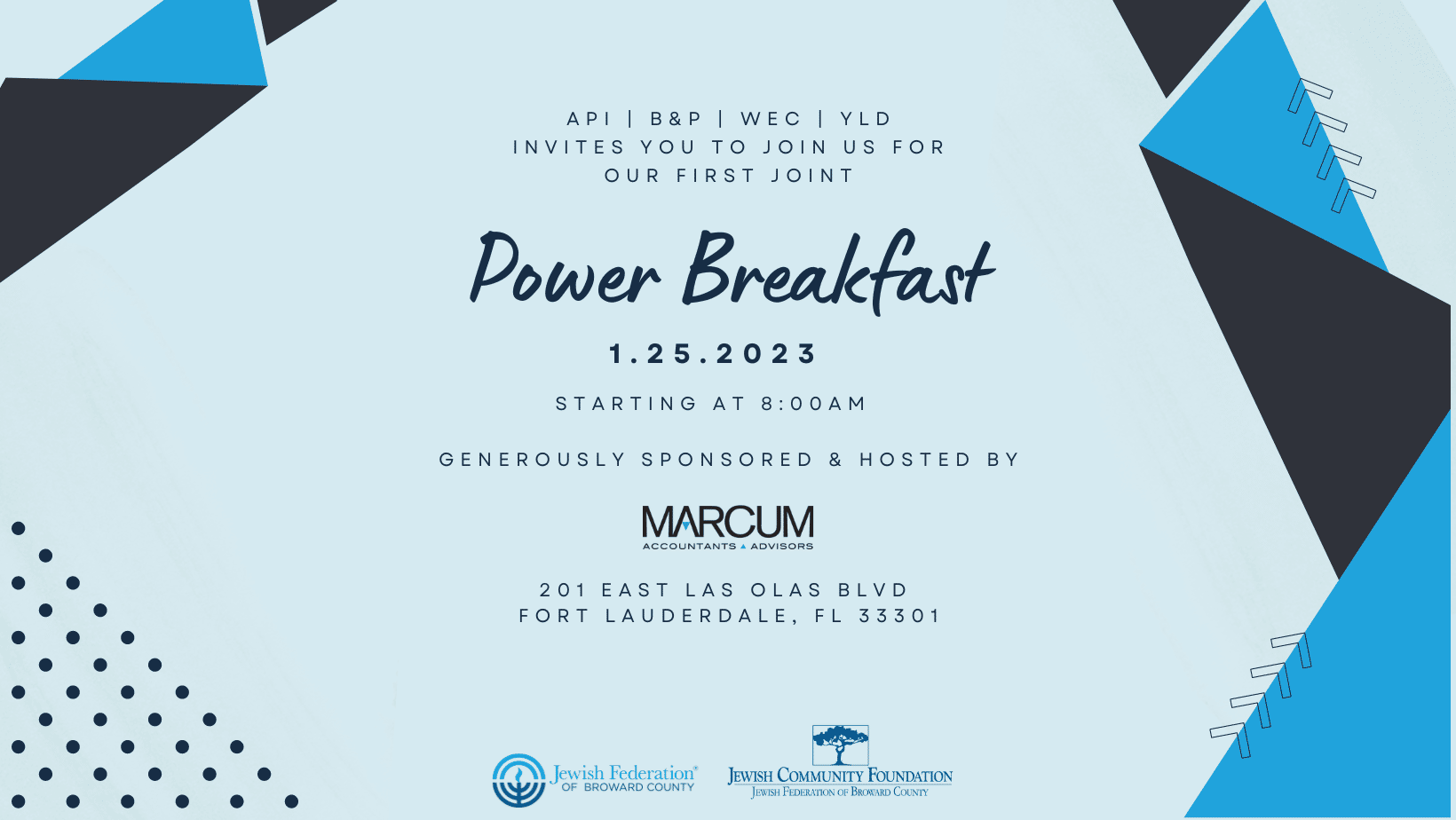 January 25 @ 8:00 am - 10:00 am
Our Advisors Philanthropy Initiative, Business & Professionals Division, Women's Executive Circle and Young Leadership Division invites you to our Power Breakfast!
Join us as we hear from a panel of industry leaders about how to leverage networking, giving back to the community, sharing Jewish values and incorporating them into work life, as well as how the economy is affecting different industries.
Breakfast Included
Kosher Dietary Laws Observed
API Chair: Phil Herzberg
B&P Co-Chairs: Jarred Elmar, David Silver, Mitch Starr
WEC Chair: Susan Weisman
YLD B&P Co-Chairs: Jason Landess, Allen Levin, Matthew Marino
YLD Outreach & Networking Chair: Magali Lukin
201 East Las Olas Blvd
21st Floor
Fort Lauderdale, FL 33301
Donors: $25
Nondonors: $36
THE IRS REQUIRES US TO INFORM YOU THAT THE COUVERT IS NOT A CHARITABLE DEDUCTION.
*YLD Donors are between the ages of 22-40 and give at a recognized gift level of $365 or more to the Jewish Federation of Broward County's 2022-2023 Annual Campaign attend Happy Hours for free as well as other events at a discounted rate. ALL OTHER DONORS are community members who contribute $1,000 or more to the Annual Campaign or are Corporate Partners of the Jewish Federation of Broward County.