MARCH OF THE LIVING Broward & Southern Regions Present 2020 Speaker Series
December 6, 2020 @ 11:00 am - 12:30 pm
"Coffee Talk" with Survivors Mary Eckstein and Rosette Goldstein. Please join us as best friends from different countries with completely different testimonies discuss life before the holocaust, surviving and their positive outlook today during COVID
Register here: https://form.jotform.com/202524380293148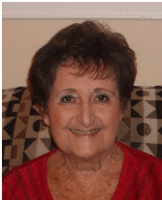 Mary Eckstein
I was born in Budapest Hungary in 1936. From 1942 on, Jewish men, my father among them, were taken to forced labor. Therefore, I have very few memories of him. The rest of my family lived in a town named Eger. They all perished in Birkenau.
After Germany invaded Hungary March 1944 all Jews had to wear the yellow star and move into special houses called "Jewhouses". Our home was declared a "Jewhouse", so we did not have to move.  I was 8 years old at the time.
In October 1944, the Hungarian Nazi Party (Arrowcross) came into power. All the Jews of Budapest had to move into the ghetto. Thanks to the heroic efforts of Raul Wallenberg, a Swedish diplomat, who was able to convince the Swedish and Swiss governments to issue safe passes to anyone who was able to obtain one.  This safe pass enabled them to move into a safe house supposedly protected by the Swedish or Swiss Governments.   My mother was able to get one of these and when we went to find a place, we were captured by the Arrowcross men and were marched to the brick factory. We were kept there for a week. Then children were separated from mothers and marched back to Budapest. A good-hearted German woman took me to a place that my aunt found. Three days later my mother came after escaping execution by the Arrow Cross.   We moved into a Safe House. We had no food, and were not allowed to go out to shop. My memory of this time is being always scared and hungry.
On December 5, 1944 the Arrowcross came and took the young women; my aunt among them. She was deported to Bergen-Belsen. My mother and I were left behind.  A couple of weeks later they came back and took almost everyone to the ghetto. We were left behind again. At the end of January 1945, the Russian Army liberated Budapest. My father came and we went to a distant town where order had been restored.
In the beginning of May 1945, we traveled to Eger to my grandmother's home. There, my father pricked his left thumb and three weeks later died of sepsis.   My mother and I moved back to Budapest, where the Communist Government was in power.  I finished my schooling and became an optician. I married Joe, another survivor, in May 1955. We had a son Peter in November 1956.
As a result of the October revolt against the Russians, in December 1956, we managed to escape into Austria and shortly after, we came to the US.  We made our home in Syracuse NY, had a second son whom we lost in 1993. We moved to Florida 1986 and live near our son Peter and daughter-in-law, Carol. We have two lovely granddaughters, Ma'ayan and Keren.  They are our joy.
The weight of my childhood experience is always with me but I am able to enjoy life, today, in spite of it. And most of all I am grateful to find a home in this country; the best place of them all.  I am happy to be with you all on my third March of the Living.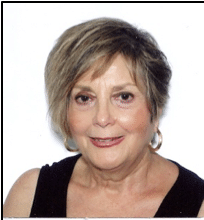 ROSETTE GOLDSTEIN
I was born in Paris, France, to Polish parents who had gotten French citizenship.  My father was in the French army.  When the Nazis entered Paris, he was sent to work in a concentration camp.  There were twenty-three concentration camps in France during World War II.  He was told that my mother and I would be spared deportation if he worked there.  Not convinced that I was safe, he asked a farm family in the small town if they would hide me.  I was three and half but I remember everything.
One day my father, who visited me every day, did not show up.  He had been deported along with the other seventy men who worked in the camp.  From there he went to Drancy, onto Auschwitz and then to Buchenwald and then Langenstein Zwieberg, a sub camp of Buchenwald where he died five days before the camp was liberated.  I continued to hide on the farm until the end of the war.  Many times the Nazis came to the farm.  Once I was hidden under a mattress, another time in a hayloft.  I remember the loneliness and how frightened I was.   I have devoted much of my time to Holocaust education and giving my father the memorial he so richly deserves.  I am going on the March of the Living for the fourth time to ensure that our voices will be heard long after our generation is gone.
This is my seventh March of the Living.