Tuesday, December 12, 2023
6:00–7:30 p.m.
The Jewish Federation of Broward County is committed to creating a new and exciting group that will seek to understand, engage with, and advocate on behalf of the Jewish LGBTQ+ community.
Join us for an evening in celebration of Hanukkah, the festival of lights, a time when we come together to foster light, hope, and joy. 
Hors d'oeuvres and Open Bar

In accordance with Federation policy, Kosher dietary laws will be observed.
Hotspots! Art Gallery
2401 Dixie Highway I Wilton Manors
$18 
Registration closes on Monday, December 11, at 5:00 p.m.
No walk-ins permitted to ensure event security
Lior Halabi
Co-Founder Miami Israel Collective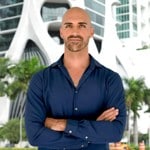 Lior Halabi is an experienced entrepreneur with a potent blend of political communications and marketing expertise who is deeply committed to community building and creating impactful change.
After his service in the Israeli military and substantial contributions to Israeli politics, particularly in advocating for LGBTQ rights, he transitioned to Miami and established Share Media, a successful PR and marketing agency. His adept skills in management and marketing, as well as his dedication to uplifting and unifying communities, drove his candidacy to represent District 2 on the Miami City Commission in 2023.
With his Jewish heritage, Israeli background, and immigrant experience, Lior aims to empower and unite minority groups, utilizing his rich experiences in both the political and entrepreneurial realms.
Thank You to Our LGBTQ+ Co-chairs:
Drew Tabatchnick
Rabbi Mark Goldman

Lital Donner
Ldonner@jewishbroward.org