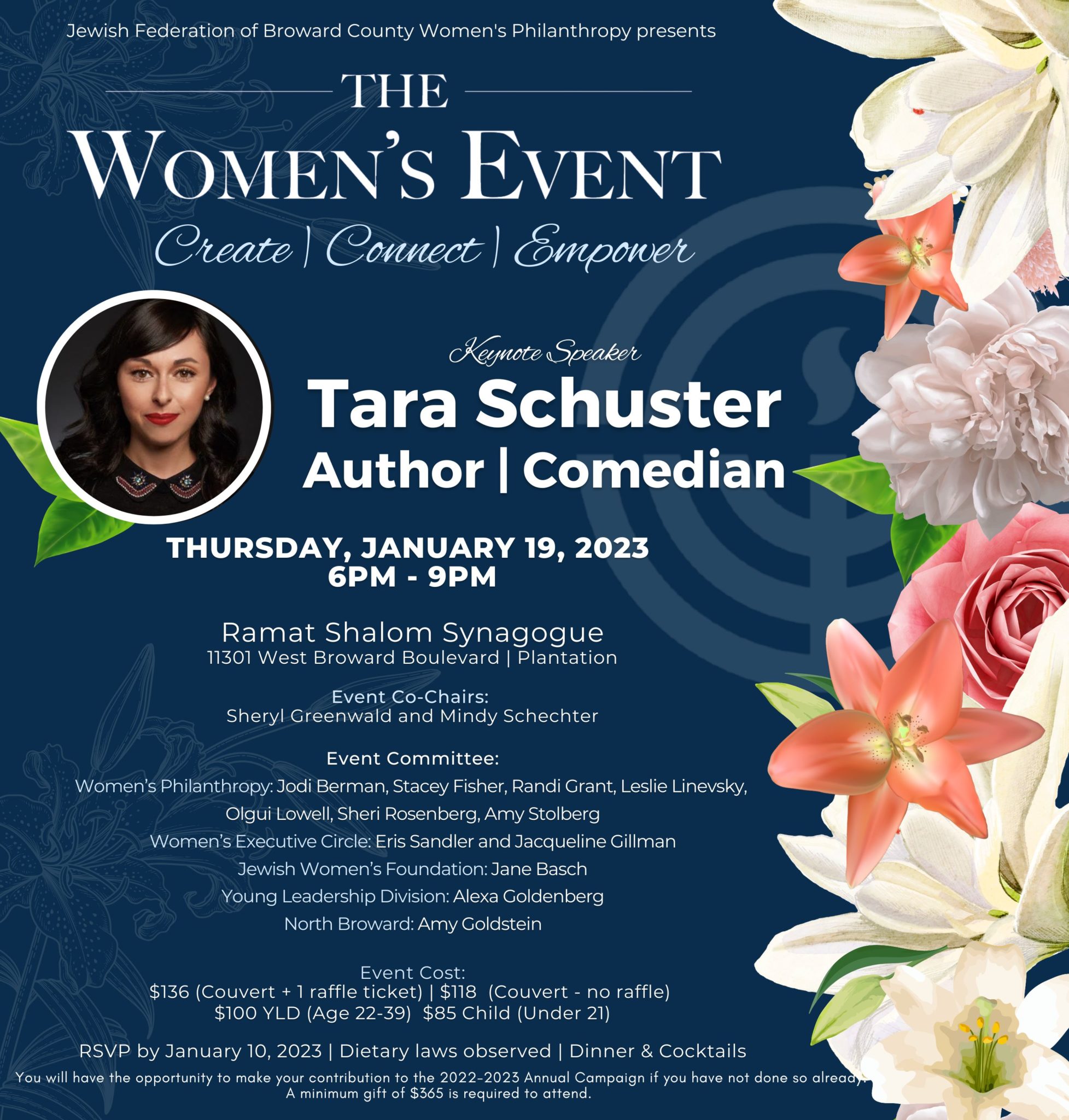 January 19, 2023 @ 6:00 pm - 9:00 pm
Join us for The Women's Event! We will create, connect and empower each other as we come together to build the Jewish future.
Featuring: Tara Schuster, best-selling author and former VP of Talent and Development at Comedy Central.
Learn more about our speaker here.
You will have the opportunity to make your contribution to the 2022-2023 Annual Campaign if you have not done so already. A minimum gift of $365 is required.
Kosher dietary laws will be observed.
Give Dignity: 
Many low income women and girls face difficult choices due to financial hurdles when it comes to purchasing feminine hygiene products. The Dignity Project empowers women and girls by collecting donated personal care items. Be a part of this important initiative by bringing pads, tampons, adult diapers, soap, shampoo, conditioner, detergent, toothbrushes, toothpaste and deodorant to the event. These items will then be distributed to our community agencies.
You can also purchase items via our Amazon Wish List.
Event Committee:
Event Co-Chairs - Sheryl Greenwald and Mindy Schechter
Women's Philanthropy - Jodi Berman, Stacey Fisher, Randi Grant, Leslie Linevsky, Olgui Lowell, Sheri Rosenberg, Amy Stolberg
Women's Executive Circle - Eris Sandler and Jacqueline Gillman
Jewish Women's Foundation - Jane Basch
Young Leadership Division - Alexa Goldenberg
North Broward - Amy Goldstein
Ramat Shalom Synagogue, Plantation, FL